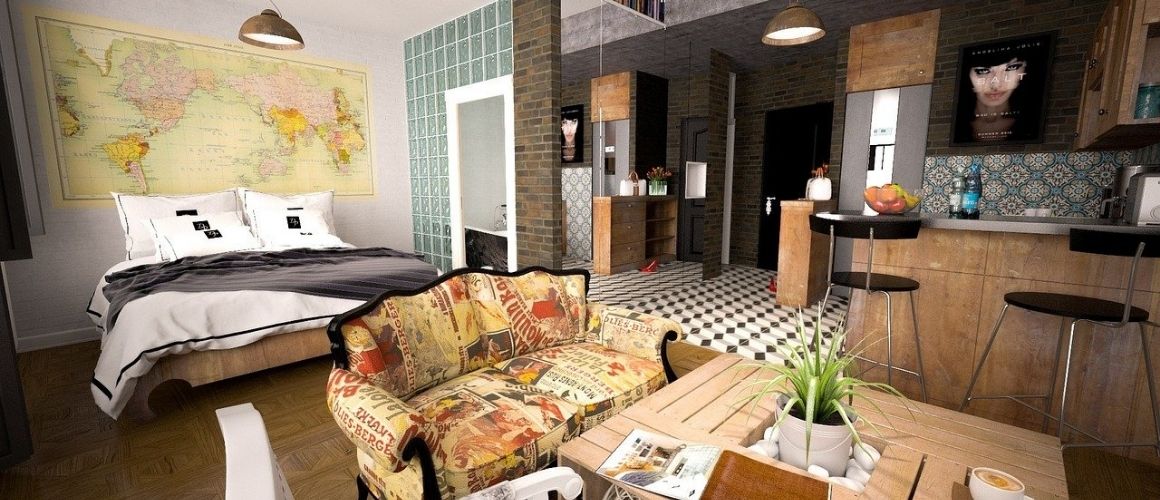 Moving to a new city often means moving, at least temporarily, into a small apartment. But how to furnish a small apartment to live better? The word you will have to keep in mind is: optimize space. When an environment is small in size, it is necessary to focus as much as possible on organization, to obtain maximum living comfort. But how to do it? In the next few lines you will find many useful tips for decorating a small house.
How to Organize a Small Apartment
As already mentioned, the organization of space is a fundamental aspect. But what are the things to take into consideration when organizing a small apartment? Let's see them together, room by room.
Living room
The first element to consider will undoubtedly be the furniture. When thinking about how to furnish a small apartment you will have to remember to avoid filling the living room, as well as the other rooms, with furniture that is too showy and bulky.
It focuses heavily on shelves and perhaps on open wardrobes made up of several modules. When choosing the doors, preferably opt for the sliding ones, so that the space is not unnecessarily occupied.
Another concept to take into consideration on how to furnish a small apartment is the multifunctionality of the space. For example, very frequently the living area also includes the kitchenette. Your goal is to make these two areas coexist to the fullest.
Kitchen
Given the limited space, a brilliant idea could be to create an island in front of the kitchen, which will perform a double function. On the one hand it will take on the role of a comfortable table top and cabinet for pots and other wall units, while on the other it will transform into a table equipped with stools where you can enjoy your lunches and dinners.
Bedroom
One of the best solutions is that of the loft bed, obviously if the height dimensions allow it. Under this you can insert a comfortable sofa with a coffee table for your evening relaxation. You can recreate a small study area with a desk, shelves and maybe a wall bookcase.
Bathroom
In a small apartment, the less large space is usually dedicated to the bathroom. It is advisable to put the sanitary ware on the same wall, and perhaps choose the suspended ones that allow you to save surface. The furniture can be limited to the sink cabinet, and further supports can be obtained with elegant glass shelves. If the bathroom is blind, do not forget the importance of installing a good ventilation system.
Colors and Materials for Confined Spaces
To furnish a small house, it is not enough to organize the surrounding environment in the best possible way, but it is also essential to choose the right colors to recreate an illusion of spaciousness. The ideal is to choose light shades. We move from classic and timeless white to other shades such as ivory, cream or beige. Gray is one of the few shades capable of giving a sober personality, but at the same time elegant housing.
Monochrome may tire you in the long run. The vivacity of the colors must be sought in the furnishing accessories that create a pleasant contrast with the walls. For accessories, you could focus on cool colors such as blue, as they too create the illusion of larger spaces. Other shades that blend perfectly with light walls are those deriving from wood, capable of reproducing an inimitable feeling of harmony in the space.
Colors are also an excellent ploy for dividing spaces. For example, by painting the walls of the kitchen, or by covering a wall in the living room with wallpaper of a different color, you will visually get the feeling of being divided into areas with different functions, despite the unique environment.
Creative Solutions to Furnish a Small Apartment
In thinking about how to furnish a small apartment, the most relevant quality is undoubtedly creativity. So let's try to stimulate your imagination a little with some ideas!
An Original Style
A creative solution for your small apartment is to choose the increasingly fashionable industrial style. This will take shape leaving for example one of the walls of your studio with exposed bricks. If the red of the brick does not excite you, you could repaint it in the same soft shade of the walls!
The Lighting
Creativity also passes through the choice of lighting. Remaining in the perspective of the modern style, a nice idea is represented by LED installations on the ceiling that will look like slits of light ready to make your small apartment shine. Another idea to make the space characteristic by playing with light is to focus on suspended lights that will drop from the ceiling with different lengths.
Use Mirrors
An old trick to contribute to the illusion of spaciousness inside a studio or small one-bedroom apartment is to indulge yourself with mirrors. Placing them in strategic points will reproduce a pleasant game of reflections, and at times the room will even seem endless!
Decor and Design
Paintings and prints are perfect for adding dynamism to the walls. Just be careful not to overdo it. Strong colors attract attention. This can be good for pictures placed in dull areas next to doors and windows, but also a downside when paired with richly decorated shelves and bookcases.
Do you want to alternate works of art with other decorations? A designer wall clock can bring that original touch you are looking for, perhaps combined with wall writings and other particular objects.