Spring is the ideal season to paint the house given the beautiful sunny days that allow a better laying and drying of the paint. Be inspired by trendy colors and techniques in 2021 to create unique rooms with an unmistakable style.
Perhaps not everyone knows that there is a real study linked to the choice of colors with which to paint the house. The color therapy is a type of alternative medicine that uses colors to stimulate and relax the body. So why not make the environments we live in more relaxing by choosing the right colors without sacrificing style?
White
One of the main trends in house painting for 2021 is Pure White, which symbolizes purity, cleanliness and order. This color gives light to the environment, gives the impression of larger spaces and is the perfect contrast with a brightly colored furniture or with a natural wood colored parquet floor. It is the ideal color to use when painting a kitchen, study room or ceilings to give a sense of openness, thus making the room seem larger. Also in vogue is the Champagne shade, bright and perfect to combine with any color.
Yellow
Yellow is the color of the sun and light, it represents creativity and positive energy. It is perfect to use in its various shades for the kitchen, for corridors and for the study as it promotes concentration. Great to combine with accessories in light colors such as dove gray and white or with dark furniture and floors. The Cantaloupe shade, a yellow-orange that gives a refined and welcoming character to the rooms. The Mustard Yellow is a strong color with a strong personality.
Red
Red is the color of passion, love and energy par excellence. Being a strong color it is to be used sparingly, preferring a dark shade such as Bordeaux. It is ideal to combine accessories and furnishings in soft colors such as light gray, white or daring with a pastel blue. If you think red is excessive but you don't want to give it up, Auburn Brown with warm shades of burgundy inside is the choice for you.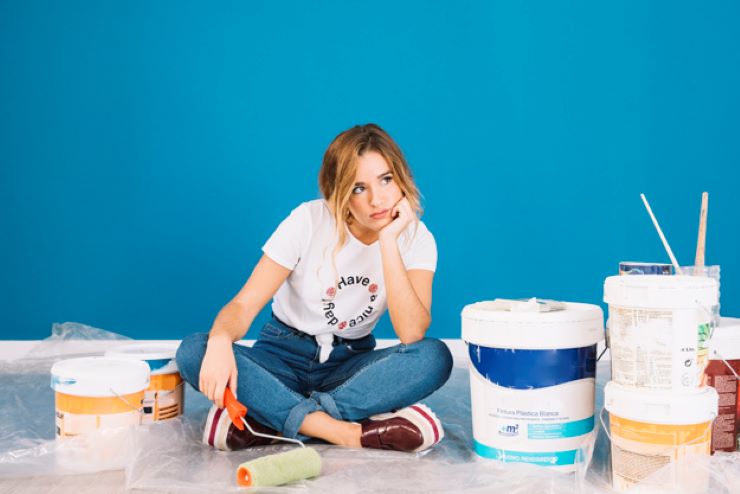 Pink
Pink is the color of femininity, elegance and delicacy. Whether it's a pastel pink, fuchsia or lilac, this color looks good in any room of the house. Perfect to combine with white, brass, gold or copper accessories to give brightness to the environment. Per those who would dare, the Cassis is the ideal: an intense raspberry violet with character.
Blue
Blue is the color of the sea and sky and has calming and relaxing properties. In light shades, such as the modern Baby Blue, it is ideal for bedrooms, especially in children's rooms. Remaining on the dark instead, the Classic Blue dictates the fashion of 2021 and is perfect when combined with lighter colors such as white or gray. And if you want to dare and recreate an eccentric and fashionable environment, you can combine it with pastel pink.
Green
Green is the color of nature par excellence. It is energetic, strong and at the same time relaxing and calming, especially if in light shades. It is ideal for bedrooms, corridors, bathroom and study. The perfect colors to combine with green are all light and natural tones, such as milky white, bamboo, wood or gray. Furthermore, if you wanted to be daring and give a trendy touch, you could combine jungle-style furnishings with maxi leaves. The hottest shade in this 2021 is Neo Mint, a particular type of very delicate, fresh and bright mint green.
Black
Black is the color of fashion, elegance, prestige and is often associated with mystery. It is difficult to use as you could get the opposite result and thus make a room gloomy and dark. The ideal would be to paint a single wall black and combine very light accessories and furnishings. If you are afraid that black will bore you soon, opt for shades of gray such as Bleached Coral, a blue-gray inspired by coral ideal for the loft style and for modern interior